One thing that helps me to put things in perspective is to make a list of my accomplishments. I find it hard to get positive feedback, but writing and adding to my list means I give positive and realistic feedback to myself. It's hard to argue with a factual win.
It's also hard to argue with a factual lose, or rejection. I've been rejected a lot in my life, so much in fact, that I compiled a list of the rejections for things that I wanted the most.
As I was writing this list, I kept thinking of more things to put in it. What really sticks out at me is my constant application process. It's always a numbers game, right? The more you apply for things, the more you get rejected (and accepted!).
You gotta break a lot of eggs to make an omelette!
1998: Nickelodeon – Pablo Penguin. I was working in a costume shop on a team making the prototype costumes for a pilot- "The Backyardigans".
I doubled as a model since I am just under 5′ and bendy. I was also pretty cheerful about getting into a hot foam suit and jumping up and down. So someone from Nickelodeon comes into the costume workshop in a panic because "Pablo" couldn't be there for rehearsal.
I of course volunteer to be Pablo, the panicked person from Nickelodeon and I discuss it and it's sounding good. I demonstrate, doing cartwheels and jumps in my foam suit.
The response is great but I later find out I haven't been cast as Pablo when I meet the new Pablo. The New Pablo is a guy, even shorter and more bendy than I am.
After we made the prototype costume foam characters, the pilot became a real show and they decided to use animations rather than actors and costume characters. The show is still going strong!
1998: Jim Henson – Muppet casting open call, we sang the alphabet while moving our hands to make the movements of letters. What I wanted was to get hired to MAKE puppets, specifically animatronics, but there were only casting calls listed and I was clueless. I left a hard copy of my portfolio with the audition's piano player. Eventually I received a postcard from the Vee Corporation saying I'd be kept  on file. (For what? hand waving??)
1999: Jim Henson Creature Shop – Animatronics maker. I finally engaged in some sort of dialog with someone at the Creature Shop in London. I think they were just being nice, not realizing that I travel a lot and am very persistent. As soon as I got to London, I showed up at their location and rang the bell. It was in a nice residential neighborhood so of course all the nosy neighbors saw me getting rejected. I was not allowed in, even though I said the name of the person I'd been emailing with and said I had come all the way from NYC. The London Creature Shop eventually closed in 2004 or 2005.
2001: Engineering school, State University of New York. I was discouraged initially from pursuing the degree, then allowed to take continuing education science classes until my GPA would be greater than 2.9. I had no background whatsoever in science or math, but somehow I emerged with an honors BSEE in 2006. It still ranks up there as my best and most difficult accomplishment.
2003: Creative Capital – My first grant application ever. I sent it in for the project Dear Honey, a movie starring 4 animatronic puppets. I made the movie anyway – it took 5 years to make because I seriously did not know what I was doing in either movie making, story telling or making animatronics.
The movie sucked.
I even received an anonymous email from an anonymous friend making sure I realized this. OK people this was 2003, getting mean comments from the internet wasn't normal, I didn't even have a webpage then.
2004: Comedy Central – Dear Honey proposal for them to make a comedy short starring my animatronic puppets. I even got a personal note back!
2004: MTV – Dear Honey proposal for them to make a comedy short starring my animatronic puppets. I sent in a VCR tape with a friend who worked there as a graphics designer. She later told me that she and a bunch of coworkers smoked pot on lunch break and made fun of the whole thing. "And where did you buy those puppets?"
2010: ARS Electronica, Radiation Orchestra, making music from background radiation.
ARS doesn't send a rejection letter, you just find out by not hearing anything.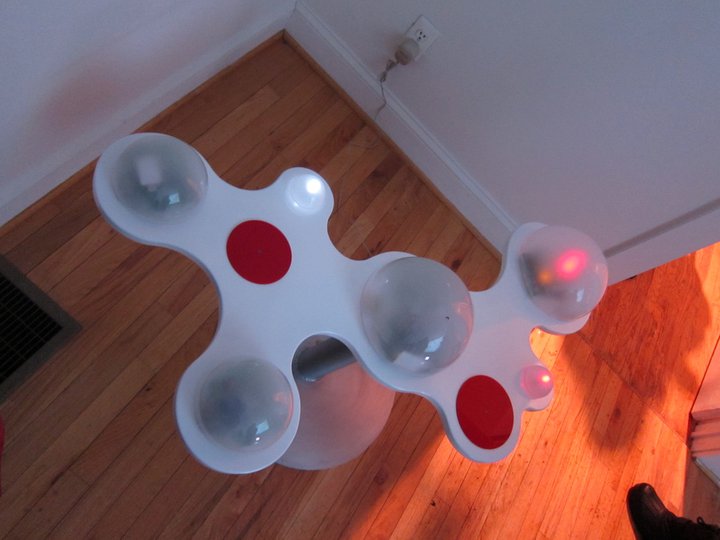 2011: Burning Man Grant proposal for Sand Swarm. My good friend Jessica Barry rewrote the grant application for me and even though I did not achieve a grant, they gave me some great feedback.
2013: ARS Electronica, Biofeedback Heartbeat project
2013: Vicarious Visions – freelance electronics engineer. I had an enjoyable meeting for this assignment, which was to help them design a toy. I work as a freelancer, so I often have meetings for design jobs. This was one I really wanted though, since it would be working at the intersection of art and electronics- a perfect fit. I did get to meet some super creative and smart people that I will work with in the future.